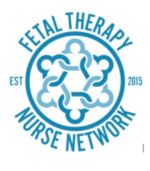 The Fetal Therapy Nurse Network was established in 2015 for nurses involved in the field of fetal therapy. In this ever evolving field of medicine, nurses are an essential piece to providing coordinated, evidence-based quality care. This organization was started with the mission to promote excellence in fetal nursing through educational offerings, research, professional collaboration and peer support. Our vision is that all expectant families facing a fetal diagnosis will receive the highest quality and compassionate patient/family centered nursing care.
COVID-19 Pandemic: A statement from NAFTNet
The rising concerns with the COVID-19 pandemic include questions around the management of pregnancy and the wellbeing of pregnant mothers and their babies. NAFTNet recommends consulting with reputable organizations and institutions, such as the Centers for Disease Control and Prevention (CDC), the American College of Obstetricians and Gynecologists (ACOG) and the Society of Maternal-Fetal Medicine Specialists (SMFM) for up-to-date information.

Additionally, NAFTNet encourages open dialogue between the pregnant patient and her obstetric team. The roles of the nurse coordinators and social workers in fetal centers are imperative to the support of our patients emotionally and logistically.


Usual prenatal care should be adjusted to minimize the risk of transmission of COVID-19. With regard to prenatal diagnosis of recognizable fetal conditions, access to diagnostic tools and interventions should continue to be made available as resources allow. Given the gestational age-dependent nature of reproductive choice and effective interventions that can reduce neonatal morbidity and mortality, prenatal diagnosis and most forms of fetal therapy should not be defined as "elective," and should be guided by institutional policies and practices.